Summer in South Tyrol's mountains
If you spend one summer in South Tyrol's mountains you'll want to come back again and again. The pleasant climate, the smell of hay and herbs, the neat mountain pastures, the proud mountains, the numerous colourful celebrations… you'll never want to miss that again!
Hiking fans love our area. They can start on their tours directly from our farm or comfortably reach further ones by car.
This is a short abstract of what you can do during your summer holiday:
Wolfsthurn Castle, hunting and fishing museum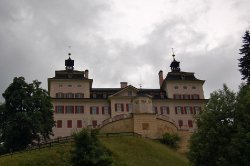 Wolfsthurn Castle is the only uniquely baroque castle in South Tyrol. Since 1996 it hosts a museum about hunting and fishing.
Opening hours: 1st April to 15th November
Tuesday-Saturday
9.30 am – 5.30 pm
Sunday and public holidays
1 pm – 5 pm
Monday closed
---
Mining world in Ridnaun Schneeberg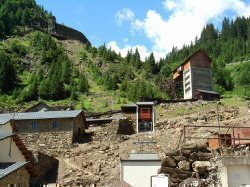 Within walking distance you'll reach the mining world of Ridnaun Schneeberg. This is one of the highest mines in Europe and the oldest ore mine in the Alpine area.
In almost a thousand years, miners could draw silver, lead and zinc out of it, mostly in extreme climatic and technical conditions.
Opening hours: 1st April to 7th November daily except on Mondays, 9.30 am to 4.30 pm
---
Hiking tours in the mountains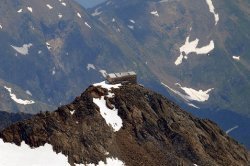 Our farm is the starting point for numerous hiking tours and hill walks, leading to places like the Becherhaus, the highest refuge in South Tyrol.
Besides, you can reach a lot of mountain pastures, starting from our place. One of these is the Aglsalm, which partly belongs to our family.
Here you can experience alpine life: you can taste homemade "Graukäse" (a kind of cheese), butter and a fresh cow milk.
---
St. Laurentius Chapel  – have a rest and find peace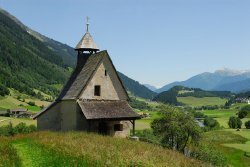 Another place of interest is the St. Laurentius Chapel, which is situated at only 5 minutes walk from Veiterhof.

It lies on a rocky hill which gives you a magnificent view above the hamlets of the higher Ridnaun Valley.
This chapel was named for the first time already in 1390.
---
The "Burkhartklamm"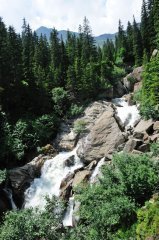 The "Burkhartklamm" (45 minutes walking distance) gives an impressive idea of the natural power of water.
On the panoramic path you can follow, there are plenty of bridges crossing the Fernerbach. You will also find a number of lookout points which offers a good view over the waterfall.
At the end of the "Burkhartklamm" you can stop by at the Aglsbodenalm.
---
The "Gilfenklamm"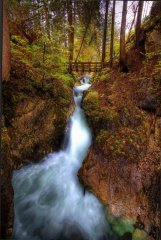 The Gilfenklamm, at the beginning of the Ratsching Valley, is one of the most beautiful gorges in the Alps. It is all in white marble!
Starting point: Stange
Altitude difference: 175 m
Walking distance: about 1 hour upwards, 30-45 downwards
Open: beginning of May to beginning of November

Entrance: adults 3€, children 1€